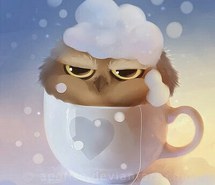 First Name: Salty
Last Name: Dove
AKA: Ellie
Gender: Female
The Grand Scribe of the memes with an advanced understanding of technology and mechanics. Generally friendly, emits a pheromone that attracts all viable partners within the vicinity. However, she is only drawn to Karma. Other notable males include Ace and Clades who are immune to this biological reaction.
Roasting techniques are usually sarcastically in poor taste, but as most females do, she summons great powers of roasting at random times. She is capable of roasting at unimaginable lengths, and beware when she loses her temper; few make it out unscathed. Like the others she roasts Pike into hell.
Her race is unknown.
-Tends to favor avian profile images.
-The only girl in the group at least 96% of the time.
-Her roasts come out of the blue and are known to be legendary.
Ad blocker interference detected!
Wikia is a free-to-use site that makes money from advertising. We have a modified experience for viewers using ad blockers

Wikia is not accessible if you've made further modifications. Remove the custom ad blocker rule(s) and the page will load as expected.